Autumn on Mackinac Island
Art Notes
Life is quietly enchanting in this romantic island haven where the modern world seems a million miles away. Autumn on Mackinac Island takes us to this nostalgic Victorian village, where carriages clatter down the lane and bicycles weave languidly to and fro. Nan's Fudge Shop (a tribute to my wife's famous fudge recipe) invites us to sample the island's chief product, while the famous Grand Hotel peeks from behind the autumn trees. At the right, the steeple of the famous Little Stone Church rises above the foliage.
Now, with Autumn on Mackinac Island, you can enjoy the season of plenty in this charming, nostalgic haven all year 'round.
Autumn on Mackinac Island YouTube Video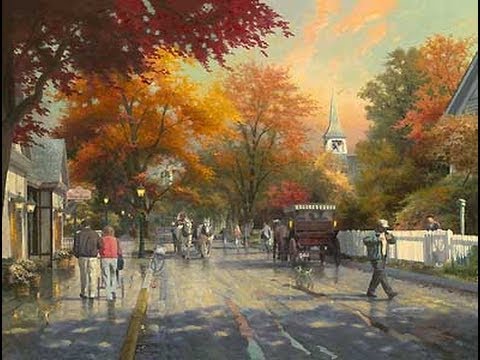 Title:
Autumn on Mackinac Island
Painted:
2005
Published:
2005
Style:
Luminism
Classification:
Thomas Kinkade Original
Subject Location:
Mackinac Island, Michigan
Limited Edition:
Available
Genre:
Cityscapes
Tags:
Autumn
,
Carriage
,
Cityscapes
,
Dog
,
european vacations
,
Grand Hotel
,
Horse
,
Landmark
,
Little Stone Church
,
Mackinac Island
,
Michigan
,
USA
,
Victorian
,
Village
© Thomas Kinkade, The Thomas Kinkade Company, Morgan Hill, CA. All rights reserved.