City by the Bay
Art Notes
For me the romance of San Francisco begins at Fisherman's Wharf. The Golden Gate Bridge stands as a welcoming sentinel, while the sunset bathes the fog shrouded air and glistens on the moist pavement.
Aficionados of San Francisco will note my many romantic touches: replacing the contemporary wharf electric trolleys with the more colorful and nostalgic cable cars, clearing away some of the fisherman's shacks along Scoma's pier to allow a less interrupted view of the famous Golden Gate, dressing the scene with an uninterrupted flow of vintage vehicles. On the top floor of famous Castagnola's restaurant, I even included a depiction of myself as a little boy looking out in awe at the distant bay as a fog shrouded ship departs for points unknown. Perhaps the romance of the City by the Bay, at least for me, began in childhood with such whimsical daydreams.
City by the Bay YouTube Video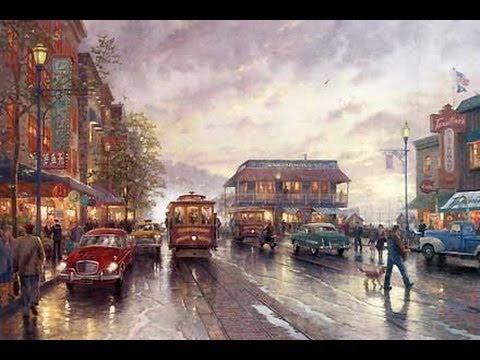 Title:
City by the Bay
Collection:
San Francisco
Painted:
2003
Published:
2003
Style:
Luminism
Classification:
Thomas Kinkade Original
Subject Location:
San Francisco, California
Limited Edition:
Available
Genre:
Cityscapes
,
Memories
,
Summer Destinations
Tags:
American Flag
,
Antique Automobiles
,
California
,
Cityscapes
,
Dog
,
Fog
,
Golden Gate Bridge
,
Landmark
,
Memories
,
Motorcycle
,
San Francisco
,
Trolley
,
USA
© Thomas Kinkade, The Thomas Kinkade Company, Morgan Hill, CA. All rights reserved.