Emerald Valley
Art Notes
In Emerald Valley I paint an ideal vision of the land of my fathers: Ireland. God's heavenly light pours from the skies on to the "auld sod" — lighting a landscape so verdantly green that it suggests the bounty of nature unspoiled.
"Emerald Valley" is a timeless village scene. Here dirt farmers haul fresh hay; grannies tend the children, while mothers battle the housework.
Rocks are ripped from the earth to build roads and fences. The stone bridge heralds this rustic heritage. Waterways fill the valleys, making for a dramatic play of light between lakes and sky.
Emerald Valley YouTube Video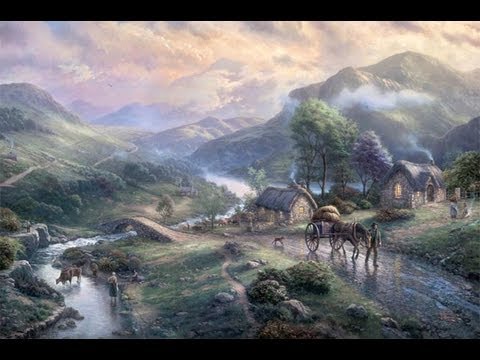 Title:
Emerald Valley
Painted:
2008
Published:
2008
Style:
Luminism
Classification:
Thomas Kinkade Original
Subject Location:
Ireland
Limited Edition:
Available
Genre:
Hearth & Home
Tags:
Bridge
,
Cottage
,
Farm
,
Fog
,
Hearth & Home
,
Horse
,
Ireland
,
Mountain
,
River
,
Stream
© Thomas Kinkade, The Thomas Kinkade Company, Morgan Hill, CA. All rights reserved.