Graceland®, 50th Anniversary
Art Notes
Fifty years ago, the King of Rock 'n Roll bought the palace that became a Mecca for lovers of American pop culture. Graceland is one of the most visited homes in America.
I grew up with Elvis Presley's great songs and movies; naturally, I was delighted when I got the opportunity to paint the official 50th Anniversary portrait of Graceland. I set up my easel at Graceland on a crisp autumn morning when the stately home was particularly cozy and welcoming. I was inspired to paint it with smoke curling from the chimney and a golden light blazing in every window.
Graceland is registered trademark of Elvis Presley Enterprises, Inc.
Graceland®, 50th Anniversary YouTube Video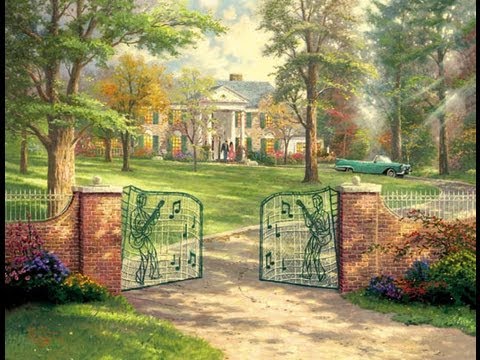 Title:
Graceland®, 50th Anniversary
Painted:
2007
Published:
2007
Style:
Luminism
Classification:
Thomas Kinkade Original
Subject Location:
Memphis, Tennessee
Limited Edition:
Available
Genre:
Estates
,
Summer Destinations
Tags:
American Pop Culture
,
Antique Automobile
,
Autumn
,
Estates
,
Gate
,
Mansion
,
Tennessee
,
USA
© Thomas Kinkade, The Thomas Kinkade Company, Morgan Hill, CA. All rights reserved.Elvis, Elvis Presley and Graceland are registered trademarks of Elvis Presley Enterprises, Inc.