Nature's Paradise
Art Notes
In my newest work, I attempt to conceive of nature as existing in complete harmony in all its elements. We see rolling mountains that gather rain to fill streams that cascade into valleys forming lakes and ponds. We see clouds gathering overhead and a rainbow forming in the sky suggesting the passing moisture of distant rainfall. The skies are filled with migrating birds and wildlife is abundant. Everywhere we look, life is brimming forth with greater blessings.
This is the third painting in the series that began with Mountain Retreat, and as the last piece in the series I wanted to pull out all the stops and let the detail be even more abundant than ever. As you explore this painting, may you discover that Nature's Paradise is waiting to welcome you in.
Nature's Paradise YouTube Video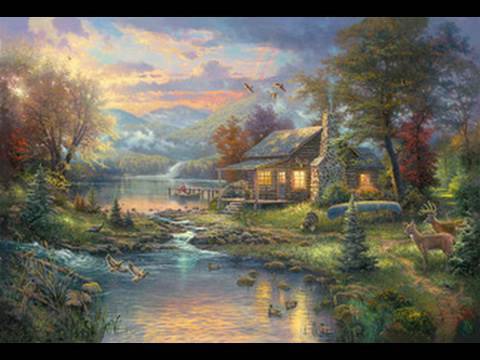 Title:
Nature's Paradise
Painted:
2009
Published:
2010
Style:
Luminism
Classification:
Thomas Kinkade Original
Limited Edition:
Available
Genre:
Great Outdoors
Tags:
Cabin
,
Canoe
,
Deer
,
Ducks
,
Great Outdoors
,
Lake
,
Landscape
,
Mountain
,
River
,
Stream
,
Sunset
,
Wilderness
© Thomas Kinkade, The Thomas Kinkade Company, Morgan Hill, CA. All rights reserved.