Pinocchio Wishes Upon A Star
Art Notes
My Disney Dreams Collection celebrates great moments from Walt Disney Films. I call these paintings "narrative panoramas" because each painting tells the entire story of the film in one image.
For my painting Pinocchio Wishes Upon A Star we see Pinocchio upon a hillside overlooking the setting of his adventures. We see Honest John and Geppetto's workshop where Pinocchio was formed. On the right we see Pleasure Island and Monstro the whale preparing to engulf Geppetto's sailing vessel. Butterflies and sparkles lend magical accents as the Blue Fairy and Jiminy Cricket look on.
My prayer is that my Disney Dreams Collection will make dreams come true for all who see these enchanted paintings.
Pinocchio Wishes Upon A Star YouTube Video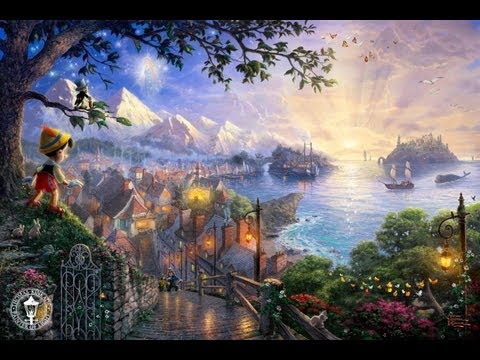 Title:
Pinocchio Wishes Upon A Star
Collection:
Disney Dreams
Painted:
2009
Published:
2009
Style:
Narrative Panorama
Classification:
Thomas Kinkade Original
Limited Edition:
Available
Genre:
Disney Art
,
Movies
Tags:
American Pop Culture
,
Blue Fairy
,
Disney
,
Disney Images
,
Geppetto
,
Honest John
,
Jiminy Cricket
,
Monstro
,
Movies
,
Ocean
,
Pleasure Island
,
Sunset
© Thomas Kinkade, The Thomas Kinkade Company, Morgan Hill, CA. All rights reserved.
Disney Elements © Disney.