Rainy Dusk, Paris
Art Notes
The beauty of the City of Lights is timeless. The same iridescent dazzle that inspired the Impressionist masters greets me when, in my Robert Girrard persona, I set up my easel.
In Rainy Dusk, Paris I paint on a busy promenade where the residue of a light rain enlivens the colors of store-fronts and street lamps without slowing any of the foot traffic. Parisians shop the kiosks and sip their café au lait at their beloved outdoor tables.
In some ways, when I put on my beret and paint as Robert Girrard, I feel transported back in time to the era of Monet and Renoir. Perhaps that is why the nostalgic costumes and vintage cars of Rainy Dusk, Paris seem so very right.
The deep mauve of a damp dusk colors the buildings a rich purple and enriches the rainbow hues of Paris. My brush dances over the canvas with an energy that reflects the life of the city.
Rainy Dusk, Paris YouTube Video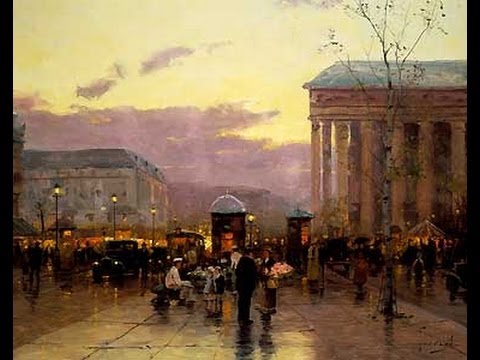 Title:
Rainy Dusk, Paris
Collection:
Robert Girrard
Painted:
1989
Published:
2007
Style:
Impressionism
Classification:
Thomas Kinkade Original
Subject Location:
Paris, France
Limited Edition:
Available
Genre:
Cityscapes
,
European Vacations
,
Robert Girrard
Tags:
Antique Automobile
,
City
,
City of Light
,
Cityscapes
,
eu
,
europe
,
european
,
France
,
Paris
,
Robert Girrard
,
Street
© The Thomas Kinkade Estate – All Rights Reserved