The Garden of Hope
Art Notes
Hope is the great gift of a loving God. In The Garden of Hope, second in my Gardens of Light collection, I celebrate the bountiful blessing that is a hopeful spirit. Radiance bathes a garden in the woods, pouring down in a flood of light upon an ancient stone urn that is a vessel of hope.

The deeply mysterious relationship between hope and sacrifice is expressed in the symbolism of the urn. Central is the Roman cross, bearing the visages of Mary and Jesus. A magnificent spray of flowers bursts forth from the urn. Surely, The Garden of Hope is a garden lavish with new beginnings.

The Garden of Hope YouTube Video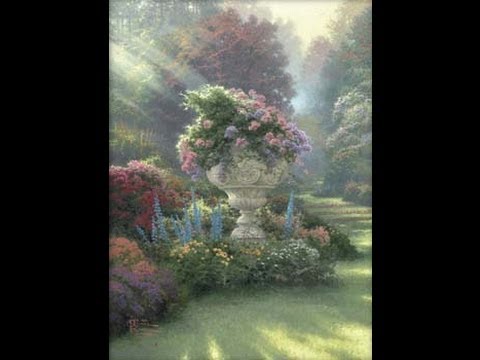 Title:
The Garden of Hope
Collection:
Gardens of Light
Painted:
2004
Published:
2005
Style:
Luminism
Classification:
Thomas Kinkade Original
Limited Edition:
Available
Genre:
Faith
,
Gardens
Tags:
Faith
,
Flowers
,
Gardens
,
Heaven
,
Jesus
,
Mary
,
Urn
© Thomas Kinkade, The Thomas Kinkade Company, Morgan Hill, CA. All rights reserved.