The Heart of San Francisco
Art Notes
"I Left My Heart in San Francisco …", so says the classic ballad; yet what is it about the fabled city by the bay that so strongly tugs at the heart strings?

I have yet to document a setting that is as quintessentially "San Francisco" as my newest work. We can almost hear the clanging of bells as a cable car makes its way ponderously up the street while colorful vehicles dodge to and fro on the congested pavement. At the far left the towers of a Cathedral lend a timeless presence while in the distance the Coit Tower and the picturesque monoliths of the bridge stand guard over the glistening bay.

As I worked, I wanted so much to enter The Heart of San Francisco that I even posed myself astride my vintage Harley Davidson motorcycle making my way up the steep incline of the boulevard!

The Heart of San Francisco YouTube Video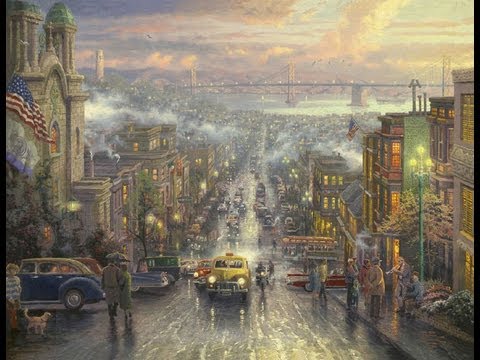 Title:
The Heart of San Francisco
Collection:
San Francisco
Painted:
2006
Published:
2006
Style:
Luminism
Classification:
Thomas Kinkade Original
Subject Location:
San Francisco, California
Limited Edition:
Available
Genre:
Cityscapes
Tags:
American Flag
,
Antique Automobiles
,
California
,
Cathedral
,
City
,
Cityscapes
,
Coit Tower
,
Golden Gate Bridge
,
Landmark
,
Motorcycle
,
San Francisco
,
Street
,
Trolley
,
USA
© Thomas Kinkade, The Thomas Kinkade Company, Morgan Hill, CA. All rights reserved.