The Old Fishin' Hole
Art Notes
Now I celebrate my own very personal childhood memories with THE OLD FISHIN' HOLE. As the first in a new series, this is a historic and much anticipated issue. But the reception I anticipate for THE OLD FISHIN' HOLE stems from something more basic than that. This idyllic image of childhood reminds us of the simple pleasures of a summer day.
Fishing was one of our summer pastimes, and we all had our favorite fishing holes. Covered bridges like this one were rarities in the Sierra foothills, but it seemed, at least in our boyhood imaginings, that big trout gathered in the shadowy depths under those dramatic old bridges. The morning sun dapples the scene in the radiant light of memory.
The Old Fishin' Hole YouTube Video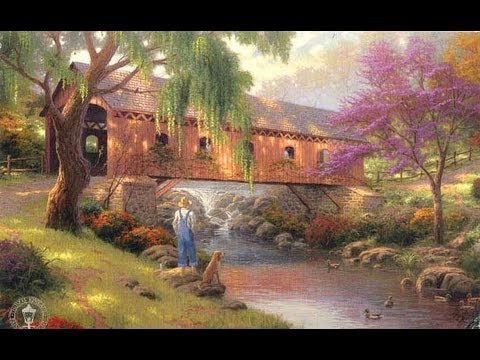 Title:
The Old Fishin' Hole
Collection:
Childhood Memories
Painted:
2003
Published:
2003
Style:
Luminism
Classification:
Thomas Kinkade Original
Subject Location:
California
Limited Edition:
Available
Genre:
Bridges
,
Memories
,
Summer Destinations
Tags:
Bridges
,
California
,
Dog
,
Ducks
,
Fishing
,
Memories
,
River
,
Stream
,
Summer
,
USA
© Thomas Kinkade, The Thomas Kinkade Company, Morgan Hill, CA. All rights reserved.