The Village Lighthouse
Art Notes
The Village Lighthouse portrays a village nestled into a rocky shore that I discovered on a seaside stroll in England. The stalwart cottages are built of the same granite that rises in cliffs from the sea. A radiant glow bathes the village, touching the magnificent flowering dogwood and lavish stands of foxgloves and impatiens with light, just as it illuminates the waves that dance over the ocean. Wisps of spray rise from the waves while plumes of smoke ascend from the chimneys. Land and sea, man and nature are in perfect harmony here.
The Village Lighthouse YouTube Video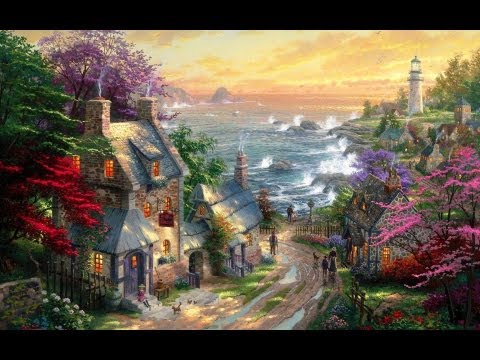 Title:
The Village Lighthouse
Collection:
Seaside Village
Painted:
2002
Published:
2002
Style:
Luminism
Classification:
Thomas Kinkade Original
Subject Location:
England
Limited Edition:
Available
Genre:
Lighthouses
,
Seascapes
Tags:
Cottages
,
England
,
eu
,
europe
,
european
,
Lighthouses
,
Ocean
,
Seascapes
,
Waves
© Thomas Kinkade, The Thomas Kinkade Company, Morgan Hill, CA. All rights reserved.